To build the nuclear reactor, it is first necessary to locate and investigate three fragments. These fragments can commonly be found in the wrecks of the Aurora. Once investigated, the nuclear reactor can be constructed using the habitat builder. For this, you will need three units of lead, one unit of plasteel ingot, and an advanced wiring kit.
The fuel used by the nuclear reactor is reactor rods, which can be crafted from three units of uraninite, and one unit of titanium, lead, and glass. Once a reactor rod is depleted, it can be deposited in the nuclear waste disposal to be permanently eliminated.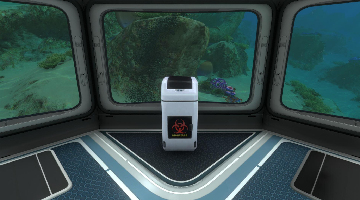 The uraninite used to craft the reactor rods can be obtained from the seabed, both in its unit form and in large deposits, which can be mined using the robotic arm of the Prawn Suit to collect it more efficiently.
Ultimately, building a nuclear reactor in Subnautica can be very useful in certain biomes where there is access to vast reserves of uraninite and where other energy sources like thermal or solar power cannot be utilized.