Satisfactory train signals are one of the most important components for any railway network in Satisfactory. There are two types of signals: block signals and path signals. In this Satisfactory train signal guide, we will explain how these signals behave and how we can use them to increase the efficiency of resource transport.
Train signals are placed at the joints between the different sections of railway tracks. Keep in mind that signals are directional, meaning trains can only move in the direction of the signal. If your goal is to have bidirectional train movement, then make sure to place two signals, one on each side of the track. These can be used to divide the track into sections or blocks. Each block in which the track is divided will be represented by a color. It is important to note that all entry and exit signals for a block must be of the same type (regardless of the complexity of the block).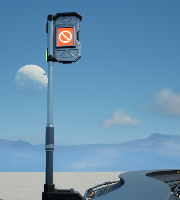 Let's start by talking about block signals. They act like traffic lights, indicating to trains when to pass and when not to. A block that contains a part of a train will be considered occupied. If one of the trains is occupying a block, the signal will turn red and the rest of the trains will not be able to access it. If the player is manually controlling the train, they can ignore the signal and access that section of the track.
Another type of signals are path signals. They are similar to block signals but designed for intersections and bidirectional tracks. This type of signal will only allow trains to enter the block when they can completely exit it without colliding with other trains. Essentially, they regulate the intersections of multiple tracks to avoid collisions.
If only one block signal is used along a closed track, the error "signal loops into itself" will appear. This can be solved by dividing the track into more sections or blocks, i.e., placing another block signal at another joint.